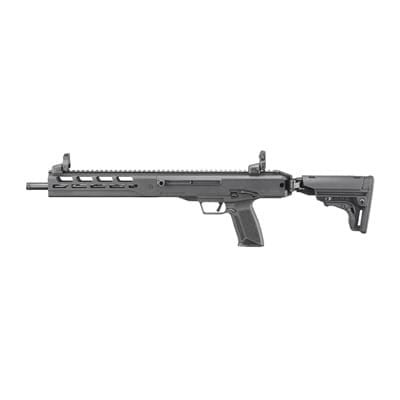 17 Sep

Ruger LC Carbine 5.7x28mm Rifle: A Comprehensive Review
Introduction:
The world of semi-automatic rifles is vast, but few manage to strike the perfect balance between innovation, performance, and aesthetics. The Ruger LC Carbine 5.7x28mm Rifle is one such firearm that promises a blend of all these elements. This review delves deep into the features, benefits, and technical aspects of this state-of-the-art rifle.
Design & Functionality:
The Ruger LC Carbine 5.7x28mm Rifle is a testament to Ruger's commitment to quality and innovation. The standard model boasts a threaded or state-compliant non-threaded barrel, a reversible, side-folding, adjustable stock, and a 20-round magazine. Weighing under 6 lbs., this lightweight and compact rifle is designed for both performance and convenience.
One of the standout features of the Ruger LC Carbine is its unique bolt-over-barrel design with the magazine in the grip. This design ensures excellent balance and pointability, making the rifle a joy to handle and shoot. The folding stock and collapsible sights are ideal for compact storage, with the state-compliant model featuring a fixed stock.
Performance & Reliability:
The Ruger LC Carbine 5.7x28mm Rifle is designed for versatility and reliability. The 16.25″ fluted, nitride-treated steel barrel ensures strength, accuracy, and longevity. The threaded barrels, with 1/2″-28 TPI threads and a thread protector, allow for the attachment of popular muzzle accessories, including muzzle brakes, flash hiders, and caliber-appropriate suppressors.
The rifle's impressive ergonomics are further enhanced by features such as the ambidextrous manual safety, reversible charging handle, ergonomic bolt release, and extended magazine release latch. The CNC-milled handguard, Type III hard-coat anodized aluminum, ensures maximum durability, with M-LOK accessory attachment slots and multiple QD sling sockets for maximum versatility.
Technical Specifications:
Material: The rifle features a nitride-treated steel barrel and a CNC-milled handguard made of Type III hard-coat anodized aluminum.
Barrel: 16.25″ fluted, nitride-treated steel barrel.
Safety Features: 1911-style ambidextrous manual safety, integrated trigger safety, lightweight firing pin, neutrally balanced sear with significant engagement and strong spring tension, and a hammer catch.
Additional Features: Ruger Rapid Deploy folding sights adjustable for windage and elevation, full-length Picatinny rail for optic mounting, and Ruger's safe, reliable, and proven Secure Action™ fire-control system.
What Sets It Apart:
The Ruger LC Carbine 5.7x28mm Rifle is more than just a firearm; it's a statement of precision engineering and design. The rifle's unique features, from its bolt-over-barrel design to its impressive ergonomics, make it stand out in a crowded market. Whether you're a professional shooter, a member of the armed forces, or an enthusiast, the Ruger LC Carbine promises an unparalleled shooting experience.
Conclusion:
The Ruger LC Carbine 5.7x28mm Rifle is a blend of innovation, functionality, and design. For those seeking a reliable, high-performance semi-automatic rifle that doesn't compromise on aesthetics or features, this rifle is an invaluable addition. Its robust construction, unique features, and thoughtful design make it a must-have for any firearm enthusiast.
---
Buy Now
Buy at Brownells and use the code SEPT55